Rauner plans pre-election Night/St. Patricks Day Rally March 17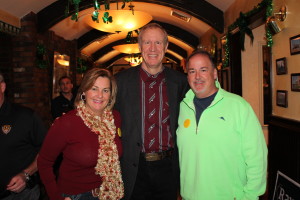 Bruce Rauner, the Republican candidate for governor of Illinois, has scheduled a pre-election night, St. Patrick's Day celebration for Monday March 17 at the Lexington House banquet hall, 7717 W. 95th Street in Hickery Hills in Chicagoland's Southwest Suburbs.
The event is co-sponsored by Rauner backer Cook County Commissioner and Orland Township Republican Committeeman Elizabeth "Liz" Doody Gorman.
Gorman has been a major supporter of Rauner's candidacy, which has picked up major steam over the past few months.
The event is open to Rauner supporters and will run from 7 pm until 9 pm with free beer, wine and food for attendees.
"We're expecting a strong crowd to send a strong message that Illinois residents are ready for change that will improve the economic situation for families, seniors and young people in our state," Gorman said.